1)

 

Login to your Direct Admin account e.g.

 

www.yourdomain.com:2222



2)

 

Click on "DNS Management".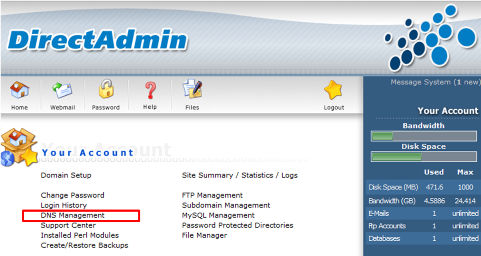 Note:

 

If your Direct Admin does not have this feature, please inform our support team to enable it.
3)

 

Scroll down to the bottom (under the 'Add Domain Records' section).


Type 'ASPMX.L.GOOGLE.COM.'

 

and select '10' for the MX record as shown below.

Press "Add" to confirm changes.

4)
Repeat the same step to add
ALT1.ASPMX.L.GOOGLE.COM.
,
ALT2.ASPMX.L.GOOGLE.COM.
, 
ASPMX2.GOOGLEMAIL.COM.
,
ASPMX3.GOOGLEMAIL.COM.
Insert each of the above priorities in the sequence of '20', '30', '40' and '50'
5)
You shall be able to see the changes as shown below.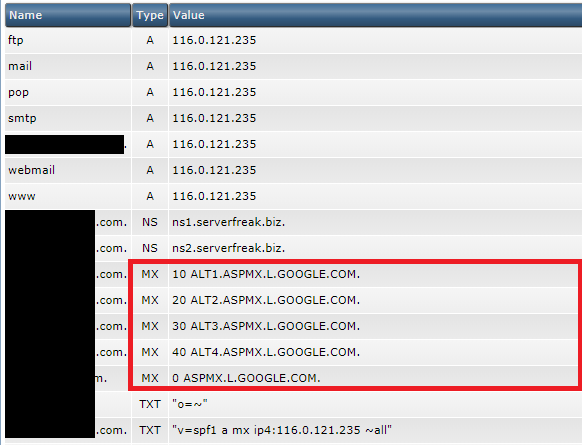 6)
Your MX records are now configured to point to Google. Keep in mind that changes to MX records may take up to 48 hours to propagate throughout the Internet.
7)
The final step is to click on "Modify MX Record" as shown below.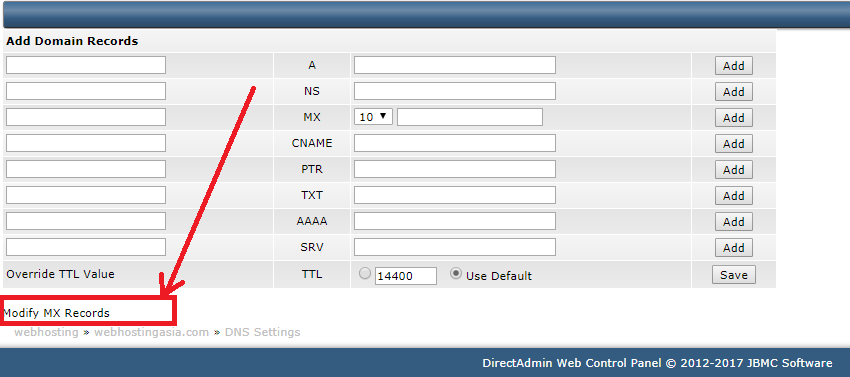 8) Uncheck the box for

Local Mail Server

. Press the

Save

button to save changes.