OpenVPN is an open source implementation of a VPN gateway. More information about the software itself can be found at the OpenVPN project homepage
Supported platforms:
Older version of Mac OS are not supported.
Installing Tunnelblick
Please go to Client Area >> "My Services" >> "Services" >> "View Details >> and here you should have a downloads tab. At the download tab, please download the "Tunnelblick for Mac".
Double click on vpnfreak.dmg, now go to Finder -> Vpnfreak -> Double click on Tunnelblick and proceed with the installation.
Start Tunnelblick (in your Applications folder) by double-clicking on it.
Authorize Tunnelblick with your Mac OS X username and password and click OK to continue.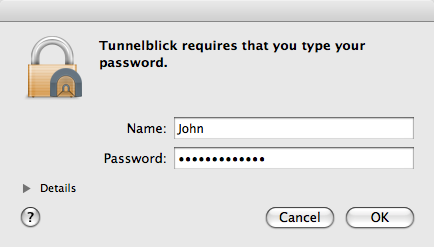 Connecting to the VPNFreak Service
1. An icon for the program should appear on the right side of the menu bar. Click on it and select Connect 'vpnx' from the drop-down menu.
2. Authenticate yourself with your VPNFreak username and password and click OK to initiate the connection.